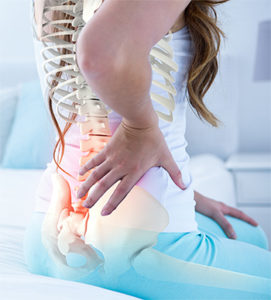 Spine
Disorders
Degenerative spine conditions and spinal cord disorders can be completely debilitating, just ask anyone suffering from back pain. There is a broad range of spine disorders that we treat here at our Dallas surgical center, including minor ailments to those that greatly decrease a patient's overall quality of life. Spinal cord disorders can be caused by injury, congenital deformities, tumors, infections, disease, or the degenerative effects of aging. As the control center for the musculoskeletal system in conjunction with the brain, any pain or loss of function in this area can lead to devastating consequences for a patient.
Thankfully, there are numerous treatment options available to those suffering from spine conditions. Our team of highly experienced surgeons relies on the latest technologies and treatments for spine care in an effort to ensure our patients receive the care and attention they need. We work together and with a team of top Dallas specialists to treat a myriad of common spinal conditions. If you are suffering from a spinal disorder in the Dallas-Fort Worth area, give NeuroSpine a call today and schedule a consultation. Our doctors emphasize spine treatments that are the most effective while also decreasing healing time for patients.
Common Spinal Disorders We Treat
We provide our patients access to minimally invasive, highly effective spine treatments that result in a faster recovery and much less discomfort. Some of the most common spinal disorders we treat here at our Dallas spinal clinic include:
Back Pain
Neck Pain
Spinal Stenosis
Tumors of the spine
Spinal cord tumors
Osteoporotic Fractures
Spine Trauma
Spondyolisthesis (slipped spine)
Herniated or Bulging Discs
Degenerative Disc Disease
Spondylosis
Scoliosis
Schwannoma
Radiculopathy
Myelopathy
Meningocele
Syringomyelia
Chiari Malformation
Tethered Cord
Please keep in mind this is just a brief overview of some of the spinal disorders we treat on a regular basis. If you are suffering from a spine condition not listed above, please do not hesitate to contact our Dallas surgical center and schedule a consultation with one of our highly experienced surgeons.
Why Choose NeuroSpine?
Dr. Mignucci is a well-respected surgeon who has been practicing in the DFW area for more than 25 years. His experience performing surgeries in numerous reputable hospitals contributed to his decision to open his own surgical center. We believe in providing our patients with unparalleled care and will work closely with each and every individual who comes through our doors to find the right treatment option for their particular needs. We understand how crippling back pain and other spinal conditions can be, and we are dedicated to helping you get back on your feet and achieve a higher quality of life. Some of the spine treatment options we offer at our Plano clinic include:
Minimally invasive surgeries to remove and repair herniated discs
Spinal fusions including single level, multi-level, scoliosis correction and revision of prior fusions
Vertebroplasty/Kyphoplasty for various vertebral fractures
Spinal decompression surgeries, including laminectomy and foraminotomy
To learn more about what to expect when visiting our surgical center for a spinal disorder, please do not hesitate to give us a call today.