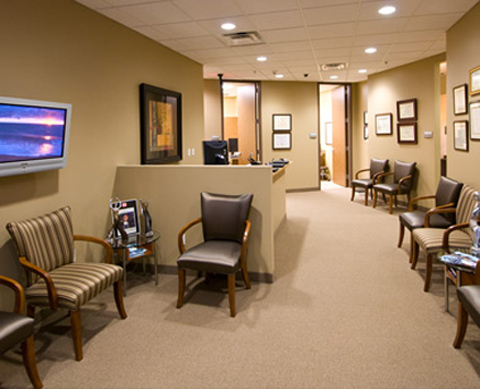 Your

First Visit
When you come in for your first appointment, please remember to bring the following:
Picture ID
Your insurance card
Completed new patient paperwork
Any imaging films you have available (MRI, CT, etc.) Must bring actual images or CDs
An insurance authorization or a written referral from your primary care doctor, if required by your insurance
If you are unable to keep your appointment, please notify our office 24 hours in advance. This will allow other patients to use that scheduled time.
Payment

Policy
Payment is required at the time of service.
We accept MasterCard, Visa, Amex, Discover, checks and money orders.
All insurance co-pays will be requested prior to your scheduled appointment.
We realize payment issues can be confusing, please call our office for further questions.
Required Forms
New patients should download, print and complete the forms listed below and bring them to the first appointment. If you are unable to complete these forms in advance, try to arrive 15 minutes early for your appointment to do so at that time.
Pre-Op Patient Instructions
These guidelines will help you prepare for your Pre-Operative appointment.
Please bring a list of your current medications, both prescription and over the counter drugs, as well as a pharmacy name and number to your preoperative History and Physical appointment.
It is important that you discontinue any aspirin, products containing aspirin, anti-inflammatory medications, or "blood thinners" for a full 7 – 10 days prior to your surgery. The presence of these drugs in your system could cause your surgery to be cancelled.
If you are having a fusion or kyphoplasty, you will be wearing a brace after surgery. Bob Bailey supplies our braces and will meet with you at your pre-op appointment in our office. If for any reason Bob is not able to meet you then, he will contact you to set up an alternative meeting to fit your brace.
If you were instructed to obtain medical clearance, please ensure that we receive all paper work prior to your pre-op appointment. Failure to do so will result in your surgery being rescheduled.
Post-Op Patient Instructions
For your convenience, we have provided post-operative patient instructions below to help explain steps to take after surgery and what to expect in regards to recovery. Just click on the appropriate surgery listed below to download and print instructions.